Descrizione del prodotto
Xhorse VVDI Key Tool Plus offre una soluzione di sicurezza all-in-one per i fabbri, che combina la programmazione immo per auto di lusso come BMW, BENZ, AUDI e VW ecc., nonché le funzioni comuni di programmazione delle chiavi e diagnosi dell'auto in un'unica piattaforma.
Supporta pin interruttore protocollo DOIP/CAN-FD/CAN e K/rilevamento pin chip/programmazione chiave intelligente Toyota senza simulatore/raccolta IMMO a lunga distanza.
Xhorse VVDI Key Tool Plus All-In-One Automotive Solution for Locksmith
Highlights:
1. VVDI Key Tool Plus provides an all-in-one security solution for locksmiths. 
Much easier to complete various automotive programming anywhere with no need to take your laptop, mobile phone.
2. It supports IMMO programming for luxury cars like BMW, BENZ, AUDI, and VW etc.
3. Available to control the key cutting machines developed by Xhorse. 
Greatly saving cost and facilitating the work process.
4. Multi-language: English, Thailand, Francais, Polski, Hindi, Chinese
 (Free to switch)
5. Free Update Online
6. Advanced Version
7. ID48 and read MB Key password online will need token, but both can read xhorse bonus points. 
VVDI Key Tool Plus bind with Xhorse key cutting machine to get free BGA token everyday.
8. The most advanced application processor of VVDI Key Tool Plus, with integrated Bluetooth, FM, WLAN, and GPS modules
, is a highly integrated baseband platform incorporating both modem and application processing subsystems to enable the best and most convenient connectivity solution. With this super processor, the enhanced overall quality is achieved for simultaneous voice, data, and audio/video transmission on the device.
KEY TOOL PLUS All-in-one Security Solution for Locksmiths
Combines immo programming for luxury cars like BMW, BENZ, AUDI, VW, etc. as well as common functions of key programming and car diagnosis in one single platform. These many functions have never been this ready to go.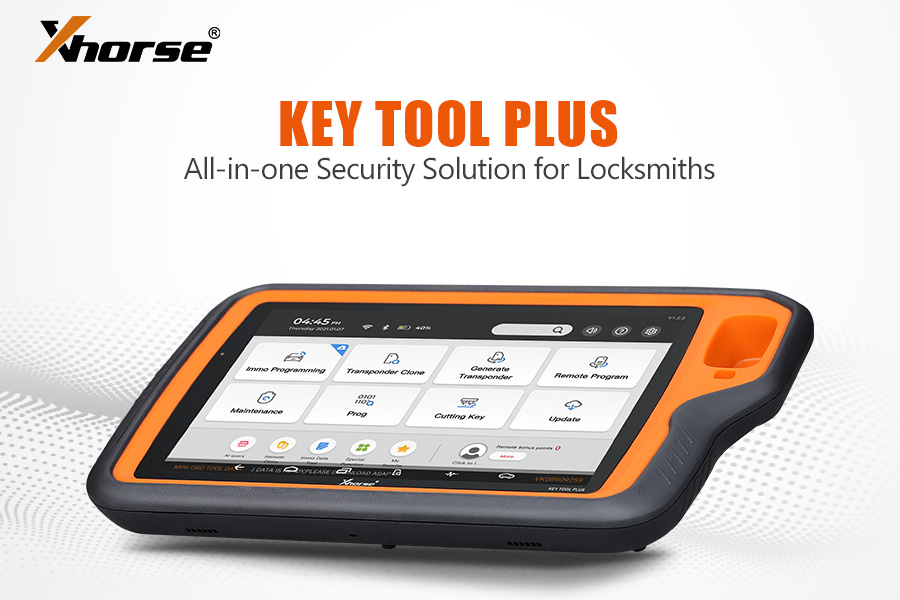 KEY TOOL PLUS Has It All.
A Computer,A Mobile Phone,A Tablet,A Immo Programmer,A Remote Maker,A Transponder Generator,A Programmer,A Frequency Tester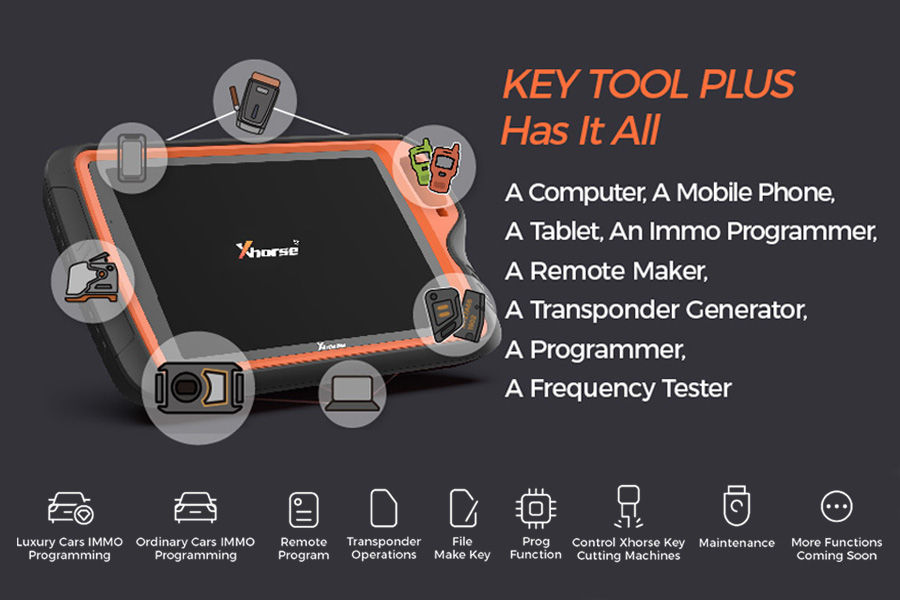 Luxury Cars IMMO Programming
Ordinary Cars IMMO Programming
Remote Program
Transponder Operations
File Make Key
Prog Function
Maintenance
Control Xhorse Key Cutting Machines
More Functions Coming Soon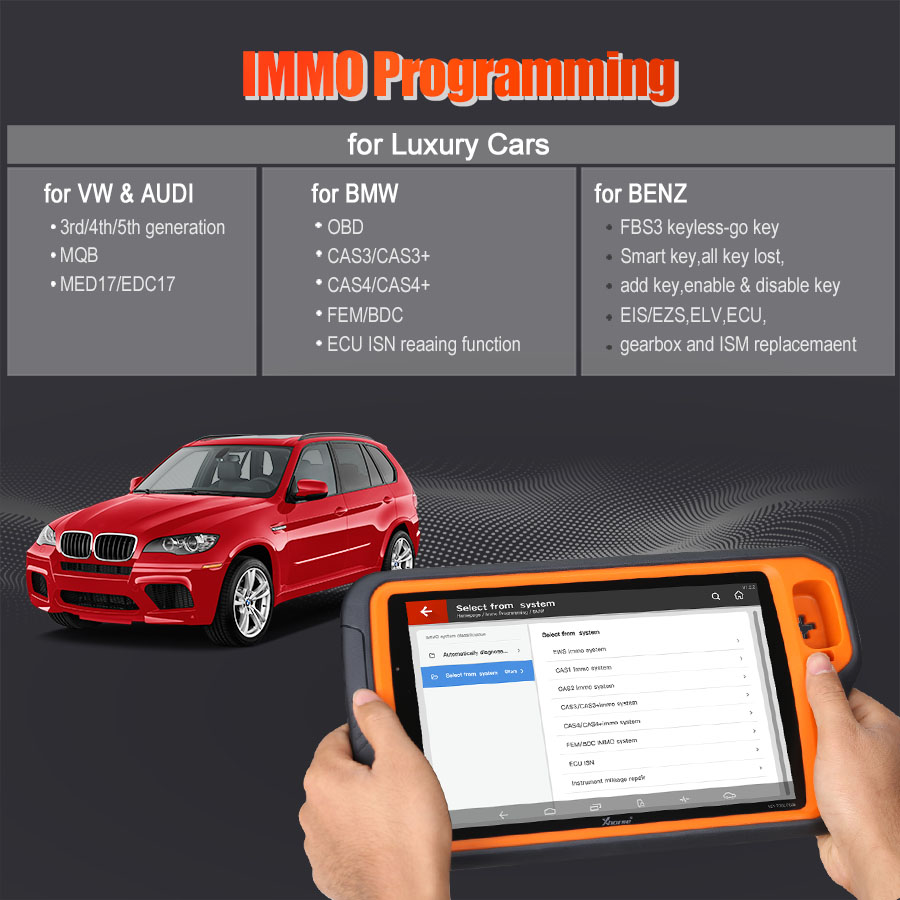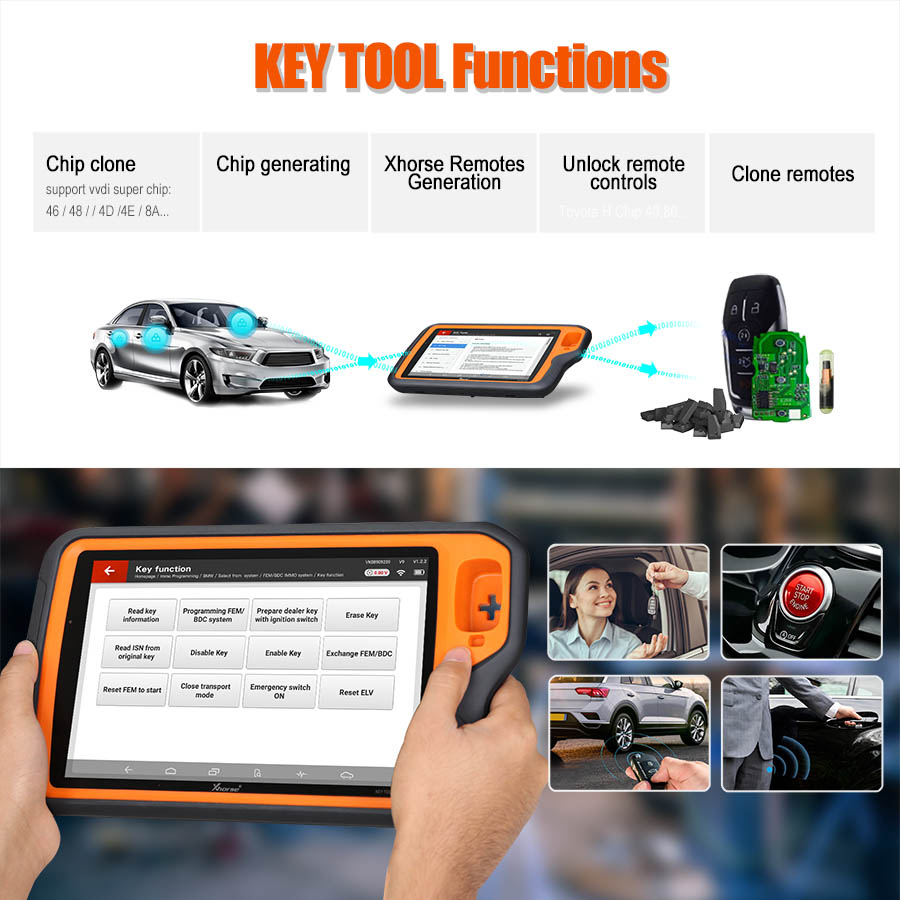 Outfitted to Outperform
Serve Your Work the Best
4GB RAM + 128GB ROM large storage capacity
8-Core high performance processor
Faster than most ordinary smart devices
4 aspects improving markedly:
Data processing, Instruction completing, Execution operation,Strong stability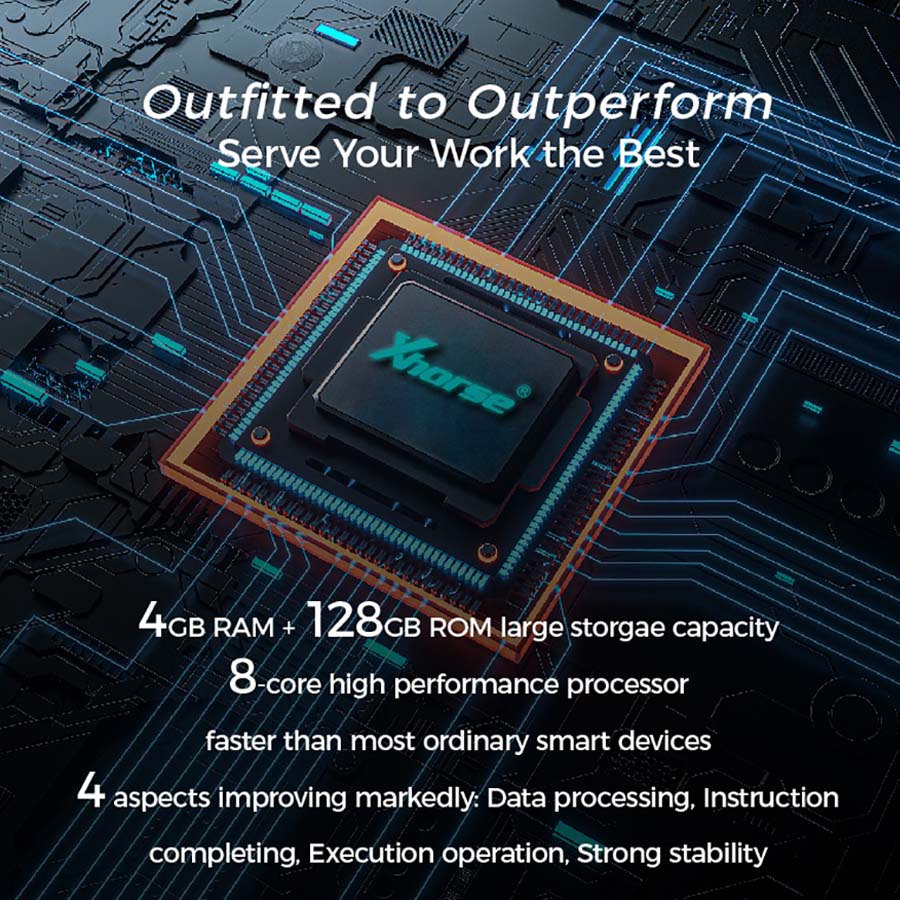 Support
√ CAN and K protocol switch pin
√ Chip pin detection
√ Toyota smart key programming without simulator
√ Long distance IMMO collection  
Built-in
√ OBD matrix switch
√ Radiofrequency simulator
√ Smart key simulator
√ Integrated key identification coil
√ BENZ infrared reading head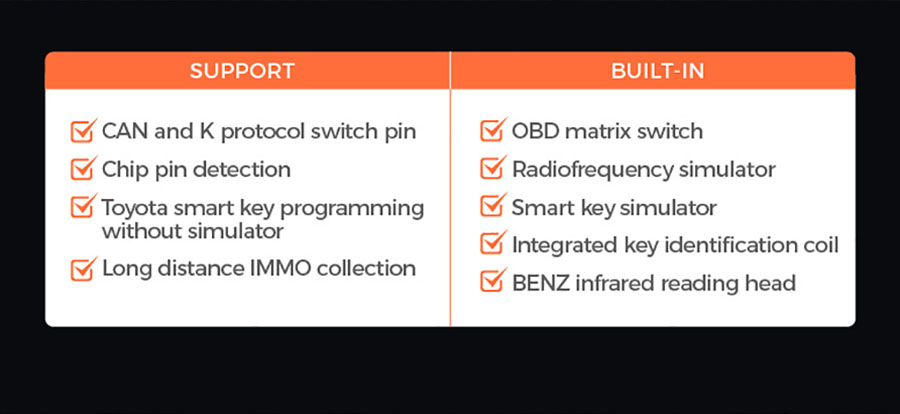 Versatility ---- Expand What's Possible
IMMO Programming for Luxury Cars
As a versatile automotive security device, KEY TOOL PLUS simplifies immo programming for luxury cars like
 Volkswagen, AUDI, BMW, BENZ, Porsche, Bentley, SEAT, 
etc.
Users can effortlessly finish the tough work in one single tablet.
Additionally, the support car models won't end here: more cars will be included in the list by Xhorse.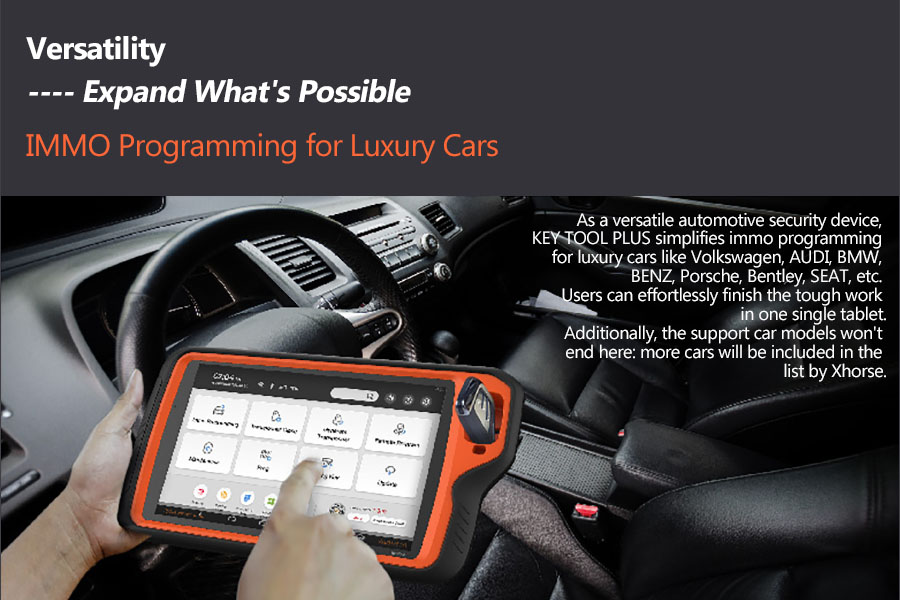 VW&AUDI IMMO Programming
3rd/4th/5th generation
MQB
MED17/EDC17 
Leading Team with Leading Tech
KEY TOOL PLUS provides users with functions including key programming, key learning, ECU coding/adaption/replacing, diagnostic function, etc. to best resolve most problems they met in immo programming for Volkswagen and AUDI cars.


BMW IMMO Programming
Extremely Cost-effective, Surprisingly Professional
KEY TOOL PLUS can achieve BMW CAS1/CAS2/CAS3/CAS3+/CAS4/CAS4+ OBD key learning, FEM/BDC key programming, File Make Key, ECU ISN reading, ECU and CAS synchronization, etc.
Getting work done has never been easier.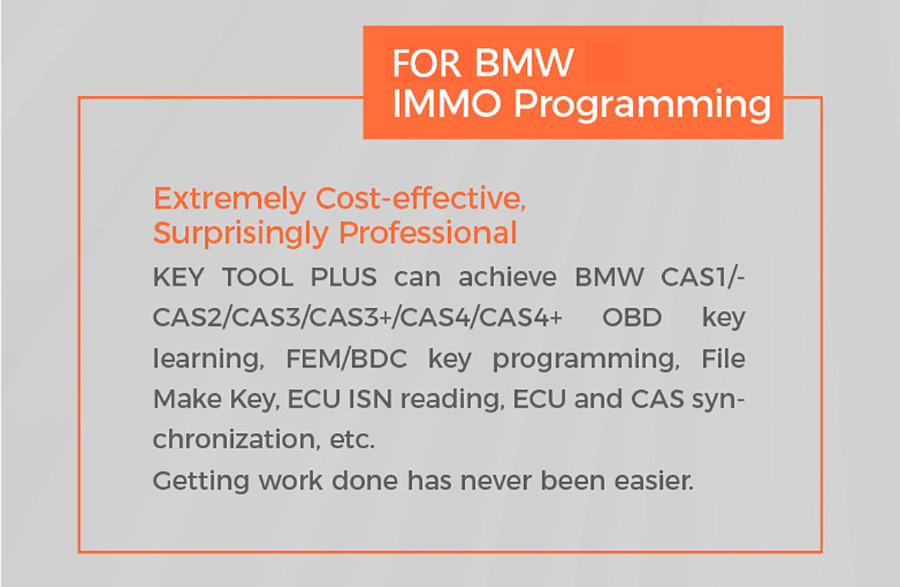 Mercedes-Benz IMMO Prorgamming
User-demand-oriented, Innovation-driven
KEY TOOL PLUS offers users all-rounded and professional security solutions for Mercedes-Benz. The device helps with FBS3 Keyless-go smart key programming, all key lost, adding keys, enabling & disabling keys and EIS/EZS, ELV, ECU, gearbox, ISM replacing.
Mighty: Beyond Your Imagination
Other Car Models Supported
For Toyota
For Honda
For Mazda
For Ford
For Cadillac
For LandRover
For Peugeot
For Kia
For Buick
For Chevrolet
For Volvo
For Mitsubishi
For Nissan
For Suzuki
KEY TOOL PLUS features immo programming for thousands of car models around the world, literally covering the great majority of car models locksmith may meet in work, so as to ensure the effectiveness and convenience of their daily work.  
All KEY TOOL Functions in One Tablet
All-in-one:
Various Devices No More,Carry a Lighter Load
Transponder Clone              
Remote Clone
Transponder Generation     
Remote Generation
Transponder Reading          
Remote Renew
Frequency Detection          
IC/ID Clone
More Functions coming soon
Eg. OBD diagnosis and MQB49 immo programming have just been released on KEY TOOL PLUS and it's projected to support DOIP, CAN-FD, Toyota 8A smartkey in the near future.
COMBINED
Its design concept is to unite the functions of your various devices and offers the advantage of ultra-convenience at hand.
The Most Comprehensive Database of Vehicles Ever
Transponders
ID46 online calculation
ID48 (96 bit) online calculation
Toyota H(8A) online calculation
Transponder generation and cloning of over 850 car models
Special transponders and special cars and old car models
Remotes
Support remote generation, smart key generation, frequency detection, remote clone for a variety of car models
HCS/fix code clone, non-HCS rolling code clone, fix code editing
PT22XX, LX918, HT6P20, VD5026, AX5326, HT12X fix code editing
Revolutionary Function
Solve Programming Dilemma
IMMO Data Tool (File Make Key)
For some cars, key programming and other settings can't be finished via OBDⅡ. KEY TOOL PLUS gives amazing strength to solve the dilemma by delivering File Make Key function which can be used to add keys for them. This very function features generating transponder via reading related transponder data of the car immo module directly.
Example: Magotan/CC 48 transpnder File Make Key
Support
Audi,Jaguar,Volvo,Ford,BMW,Land Rover,Buick,Kia,Bentley,Peugeot,Cadillac,Toyota,Honda,Porsche,Chevrolet,Nissan,etc.
Maintenance Function
Meet Your Work Demands in Every Way. KEY TOOL PLUS supports maintenance light reset, electric parking brake, TPMS, battery matching, throttle program, injector programming, steering angle programming, bitting decode, gearbox programming, headlight programming, etc.
More maintenance functions will be released soon.
A Programmer As Well: Simply Stronger, Reliably Effective
Prog Function
KEY TOOL PLUS is designed with Prog function, which can work as a solder-free programmer, directly reading and writing common modules and chips for plenty of car models. Xhorse is the first to offer this integrated solution.
Supported EEPROM and FLASH
ATMEL                   
MITSUBISHI       
WINBOND
CATALYST             
ST                       
XICOR
MICROCHIP          
SEIKO                 
XHORSE
MXIC                      
TOSHIBA
Support Modules
√BMW: CAS3/CAS3+/CAS4/CAS4+/FEM/FRM/BDC
√BENZ: EIS/EIZ                           √LANDROVER: RFA
√PORSCHE: BCM                       √VOLVO: CEM/KVM
√BMW/AUDI/VW: ECU AND MORE
√HONDA/HYUNDAI/KIA: MB91F dashboard
High-tech Made Simple  
Keep the Key Cutting Machine in Control  
Available to control Xhorse key cutting machines (CONDOR, DOLPHIN, Panda and more).  PERFECTLY WORK AS AN OPERATION SCREEN
Powered for Performance
10.1" Screen
Super 10.1"
Anti-glare display enables top operation experience.  
13MP HD Camera
The 13MP rear camera is designed to fit in multiple scenarios perfectly.  
10000mAh Battery
Long battery life and PD3.0 fast charge
Keep you productive throughout your day.  
OBD Power Supply
PD3.0 FastCharge
Bluetooth 5.0
WiFi 2.4G/5G
IMPORTANCE
We hereby state that the trade-marks or trade names mentioned in this document are the exclusive property of authorized manufacutures.
Said trade-marks or trade names are nominated only for the purpose of information so that our users can rapidly identify product information.
This document is reserved exclusively for professional locksmiths who use Xhorse products.
Package includes:
1pc x Xhorse VVDI Key Tool Plus Pad Full Configuration
---
Marchio Caldo Prodotti:
---
2023 Italia Calda Vendita KT200 ECU Programmatore:

---
Modalità di spedizione e tempi di consegna:
EU(Ceca) Spedizione: 3-5 giorni lavorativi:
Abbiamo immagazzinato articoli di vendita caldi in EU (Ceca) e Amazon EU(Ceca) Warehouse, che è più conveniente per te.
TASSE gratuita,
spedizione più veloce con un prezzo più economico.
Spedizione DHL:
3-4 giorni lavorativi,
per aiutarti nella liquidazione, ti aiuteremo a dichiarare un prezzo più basso sulla liquidazione della fattura. Se l'indirizzo è remoto, il cliente ha bisogno di pagare il trasporto remoto o spediremo tramite posta normale o Yanwen Express.Ma ora
spediamo con DHL ce dogana da pagare
,qundi se non vuoi pagare dogana spese spediamo con YANWEN EXPRESS.
Yanwen Express: 5-10 giorni lavorativi,
di solito nessuna tassa per i paesi europei o l'area remota. La tassa era pre-pagata, quando il pacchetto è stato raggiunto,
non c'è nessuna tassa per i clienti.
---
Qualsiasi domanda, non esitate a contattarci:
Whatsapp:
+86 18580434781
Skype:
AutoOBD.it
Email:
Sales@AutoOBD2.it
Live-Chat:
Chatta con noi Online