Descrizione del prodotto
Il Dolphin II XP-005L è l'ultima tecnologia di taglio chiavi portatile di XHorse! Ha tutte le capacità dell'Xhorse Dolphin XP-005 ma con maggiore sicurezza e capacità intelligenti.
Il database copre 100 marche di auto, 2000 modelli di auto, 20000 chiavi.
Batteria al litio incorporata, design compatto e leggero per un facile trasporto.
Fornito con morsetto M5 multiuso (M1 e M2 in 1)
Xhorse Dolphin XP-005L Automatic Key Cutting Machine
Dolphin XP005-L Introduction:
Dolphin XP-005L is a portable automatic key cutting machine with a small volume and light weight. Since it is an upgraded product of the Dolphin generation 1 portable CNC machine, we also call it the Dolphin 2. As a member of the Dolphin series, the portable Dolphin 2 generation key CNC machine is still a perfect solution to out-of-home work. Compared with the Dolphin first-generation CNC machine, the second-generation Dolphin has added an Android operating screen, which can be operated directly without relying on external devices, making it more convenient to go out to work.
It is an ideal product for locksmiths worldwide. Xhorse Dolphin XP-005L is a perfect tool for making keys when all your keys are lost. It can duplicate bitting and cut car keys or even some household door keys.
Built-in well-known lithium battery, stable and reliable, support cutting works without power supply access.
Dolphin XP-005L made by German DMG CNC machine has all- aluminum body structure to guarantee high precision key cutting results. Above all, the machine has a brushless high-speed motor which ensures a long motor life. Moreover, Dolphin XP-005L has a smart APP control for users' convenience, and it works with key reader.
Thanks to its compact design, lightweight, it is much easier to take outside to provide users outdoor and roadside services. Dolphin XP-005L is more convenient to carry and has more stable performancE, so It is the preferred key CNC cutting machine for out-of-home work and locksmith van.
Product Features:
1. All Key Lost
2. Key Duplication
3. Built-in Lithium Battery Easy to Carry
4. Customize Key Data
5. Optical Key Bitting
6. Multi-purpose M5 Clamp(No need to frequently replace M1 and M2 clamps)
7. Cut by Bitting
8. Find Bitting
9. Take Photos to Recognize Bitting
10. Recognition (Work with KEY READER)
11. Massive Vehicle Key Database. Built- in powerful database covers over 100 car brands, 2,000 car models and 20,000 key data.
12. Protection Shield
13. Smart APP Control HD Touch Screen
14. Support Bluetooth and Wifi
15. The indicator light changes colors with the change of real-time working status.
16. Free Upgrade Service
Product Highlights:
New multi-function M5 clamp, cutting different kinds of keys without frequent change of clamps.
Optimized built-in lithium battery with expansion interfaces,
Longer standby time and more stable work
Dust cover to avoid metal chips from splashing.
Built-in genuine key database supports online upgrade
Covers operations like adding keys, reading bitting , solutions to all keys lost and missing bitting.
Solve the bitting reading problem of non-conducting material keys like plastic and aluminum keys via connecting to optical key bitting reading equipment.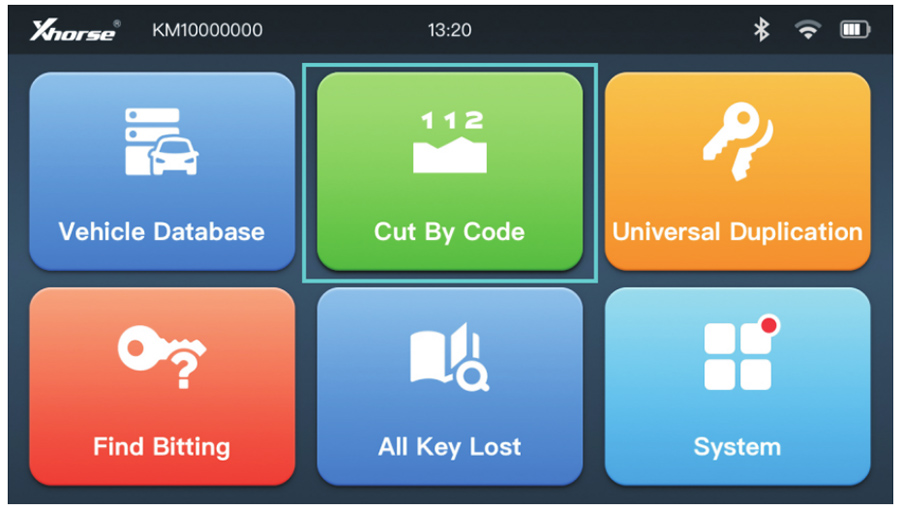 Transparent Protective Shield
The transparent shield enables users to check the real- time working status while preventing metal debris from spattering.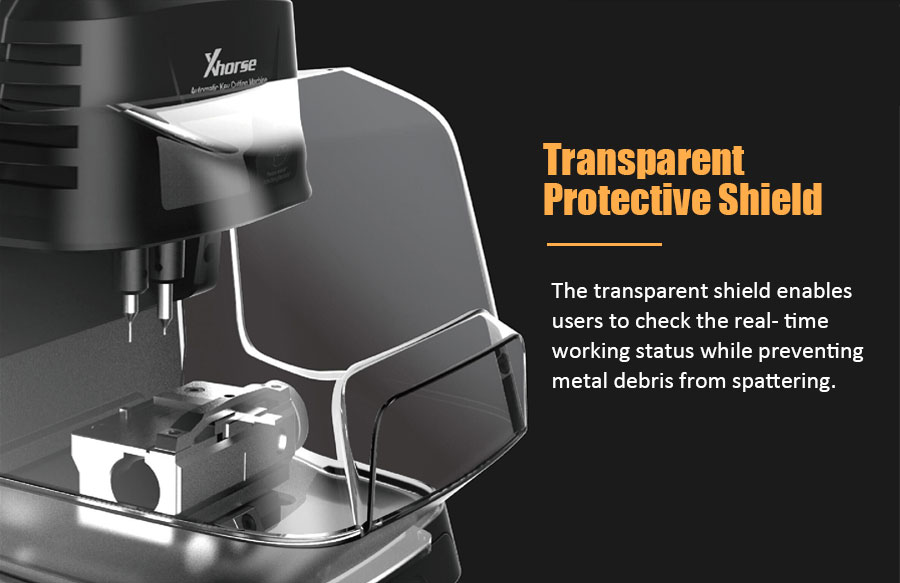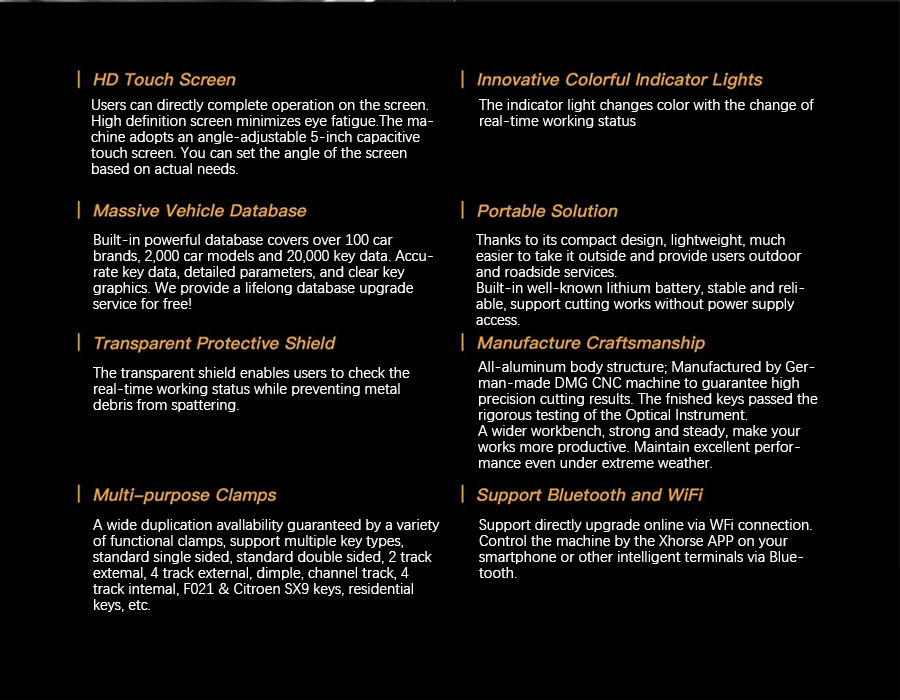 HD Touch Screen
The machine adopts a 5-inch angle- adjustable capacitive touch screen.
You can set the angle of the screen based on your actual needs.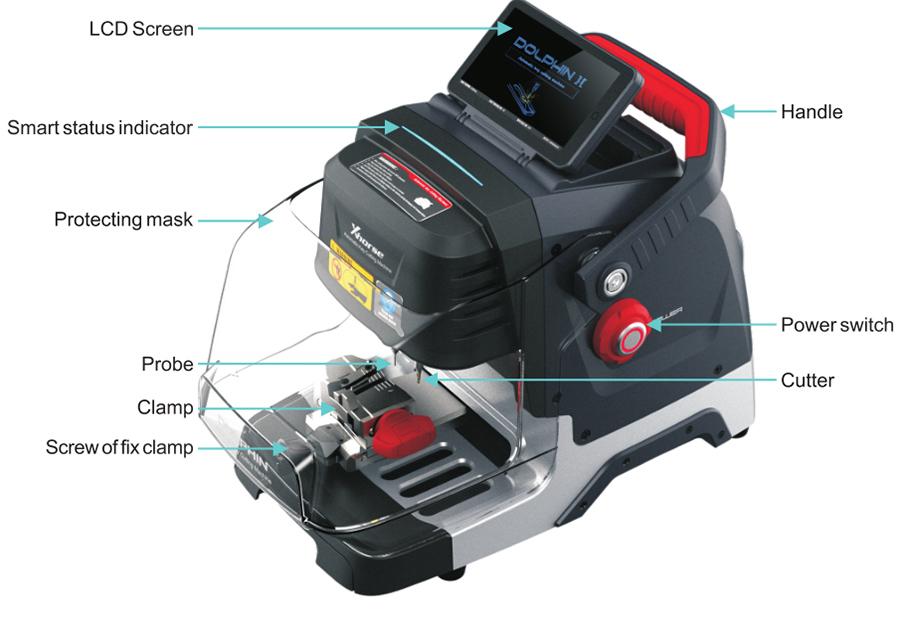 Users can directly complete the whole operation on the screen.
High definition screen minimizes eye fatigue.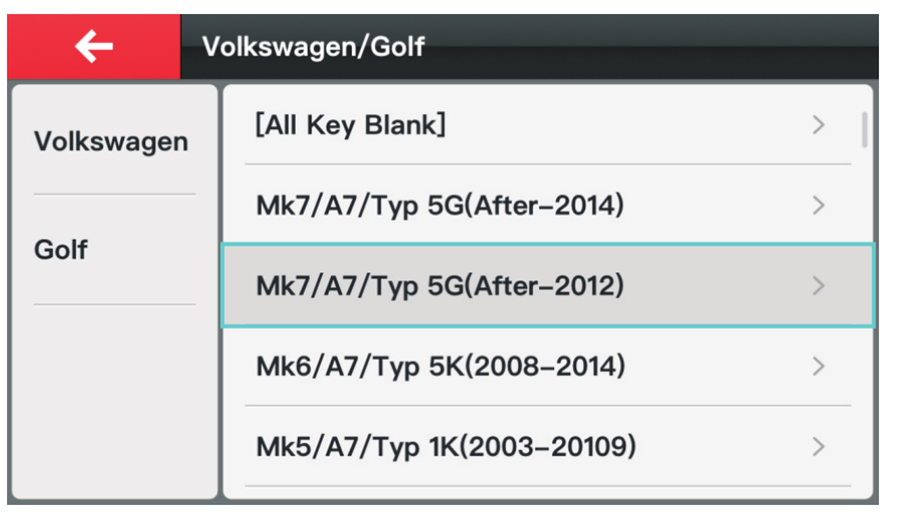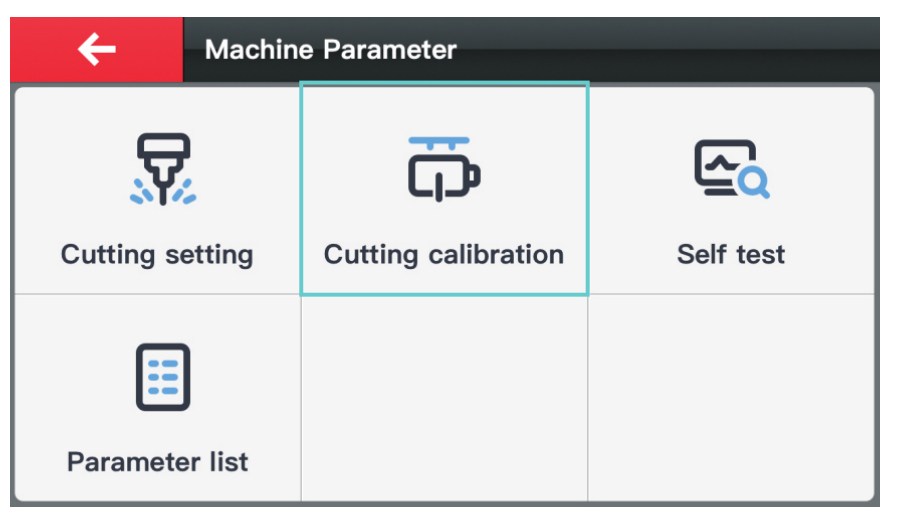 Massive Vehicle Database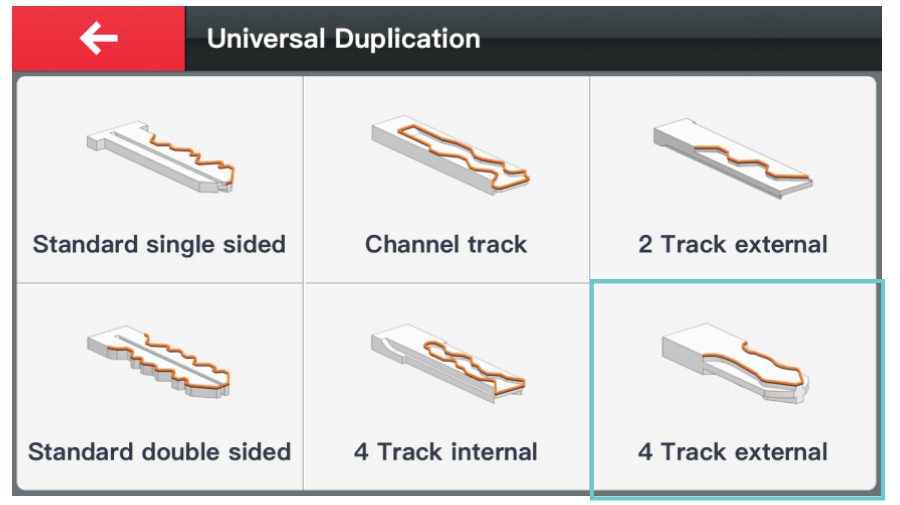 The indicator light changes colors with the change of real-time working status.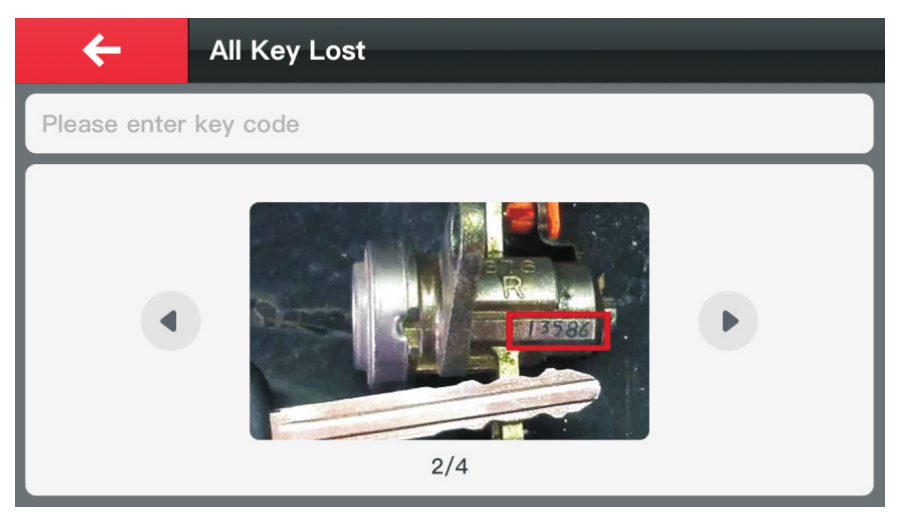 Built- in powerful database covers over 100 car brands, 2,000 car models and 20,000 key data.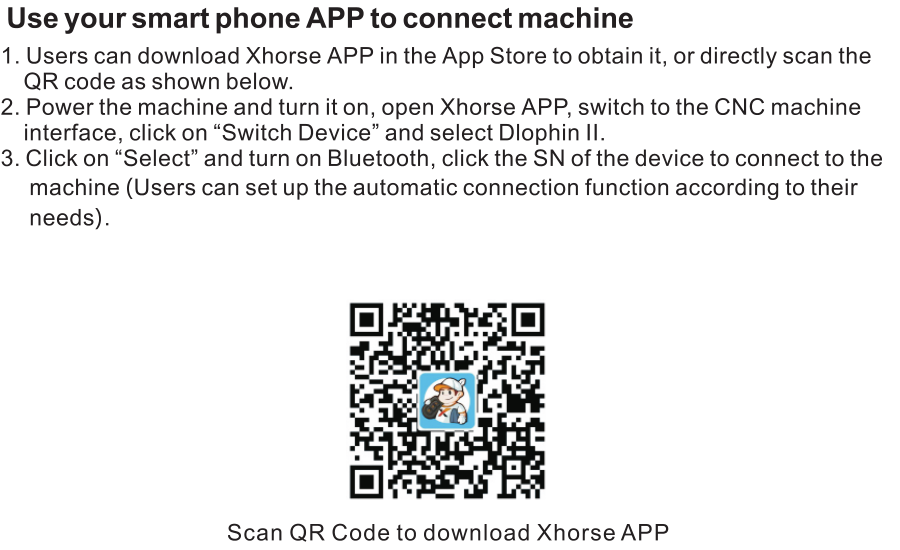 Accurate key data, detailed parameters,and clear key graphics.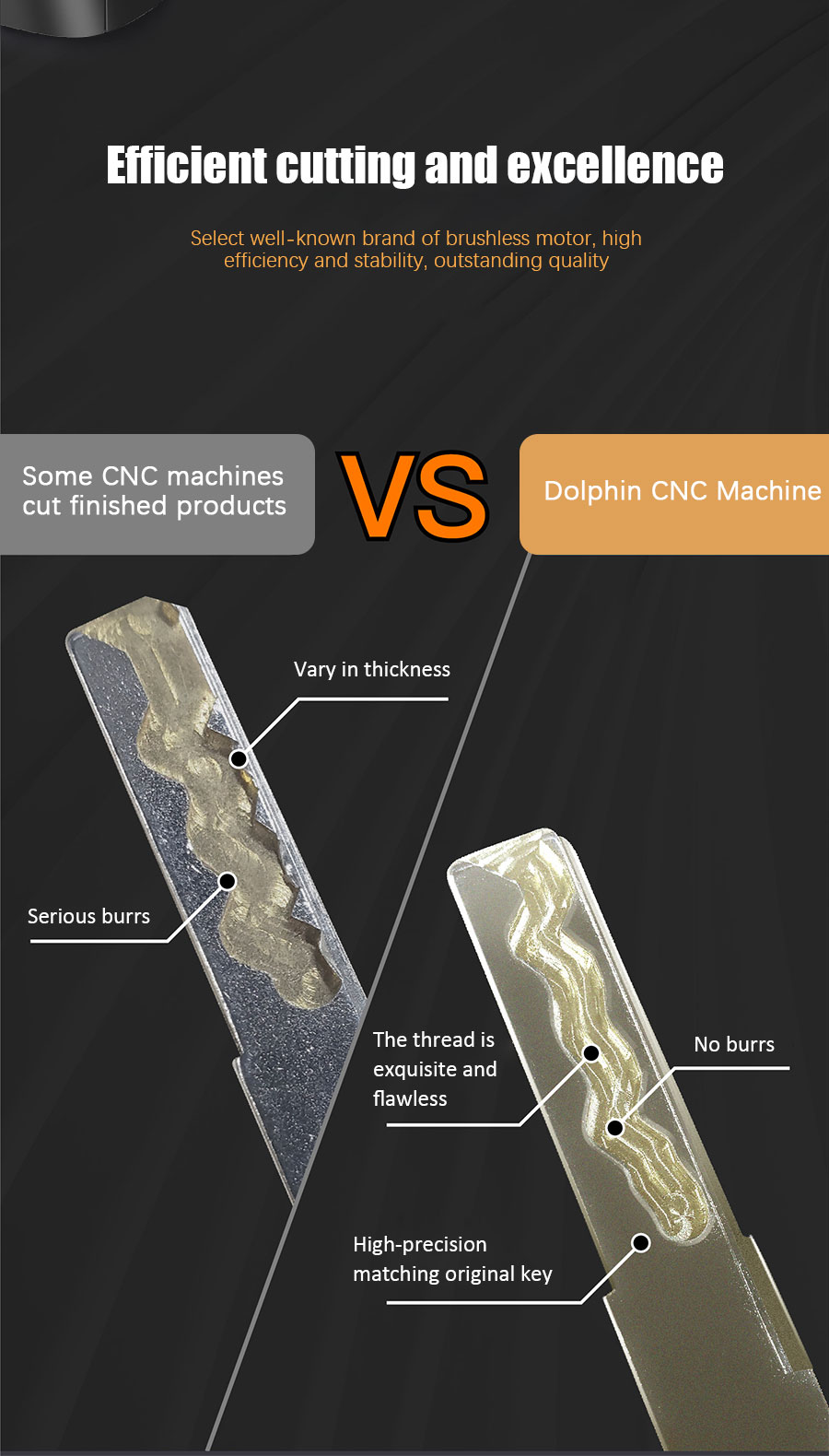 We provide a lifelong database upgrade service.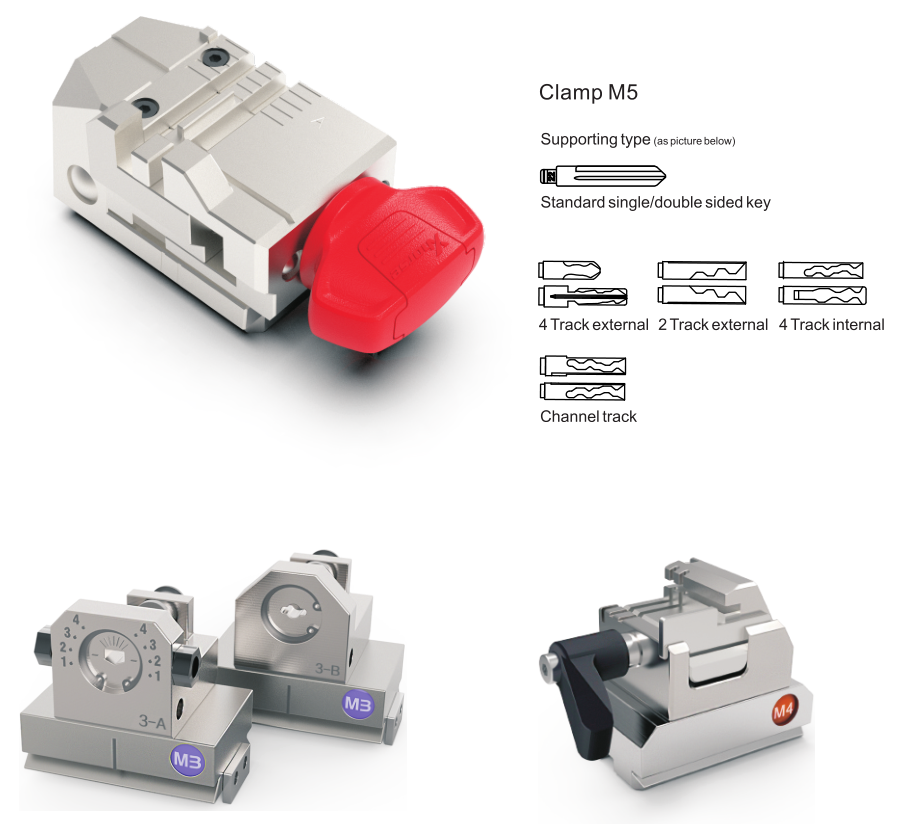 Support Bluetooth and WiFi
Support directly upgrade online via WiFi connection.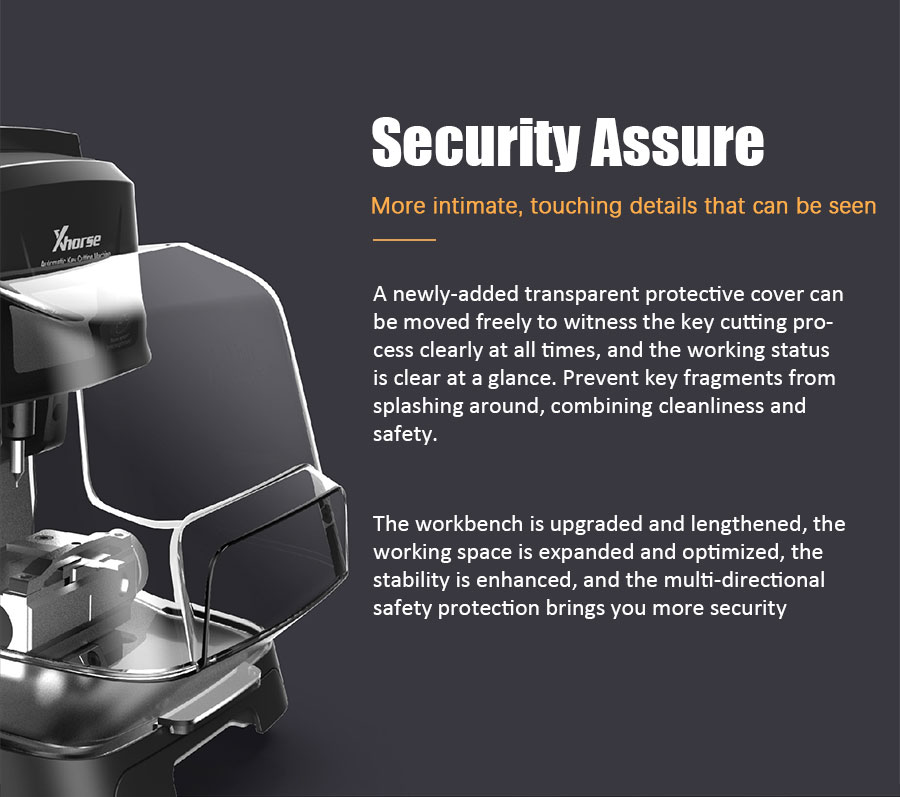 Control the machine by the Xhorse APP on your smartphone or other intelligent devices via Bluetooth.
Product Packaging Checklist:
A full package of XP-005L should include accessories listed in the following table. Please check when you get this product and contact your distributor if anything in the table is missing.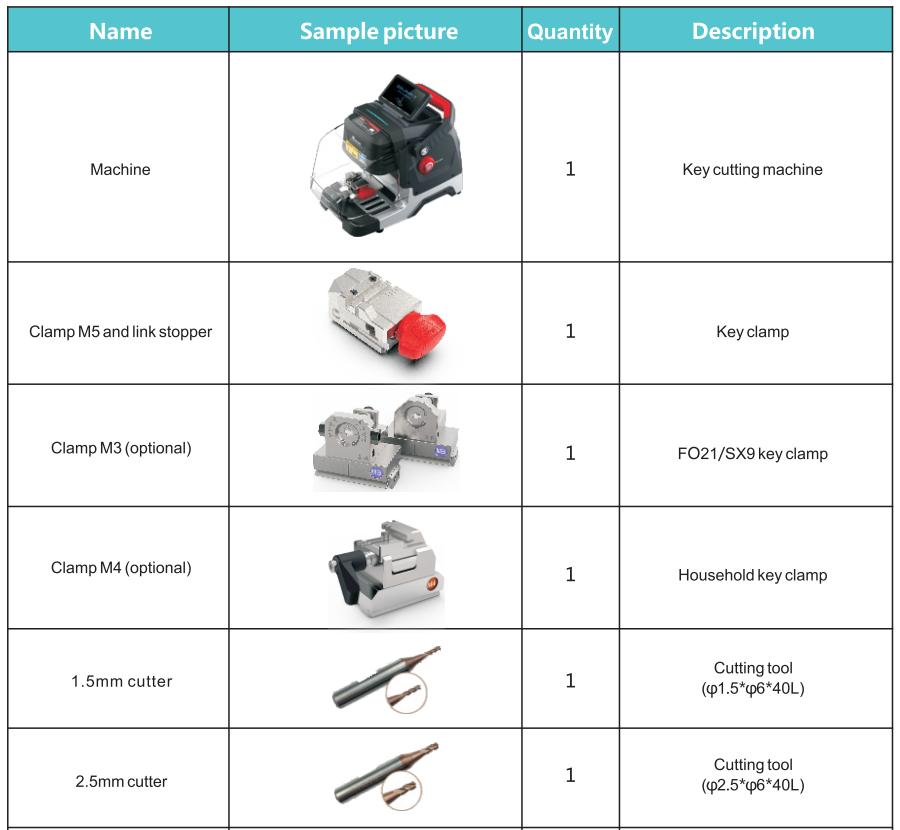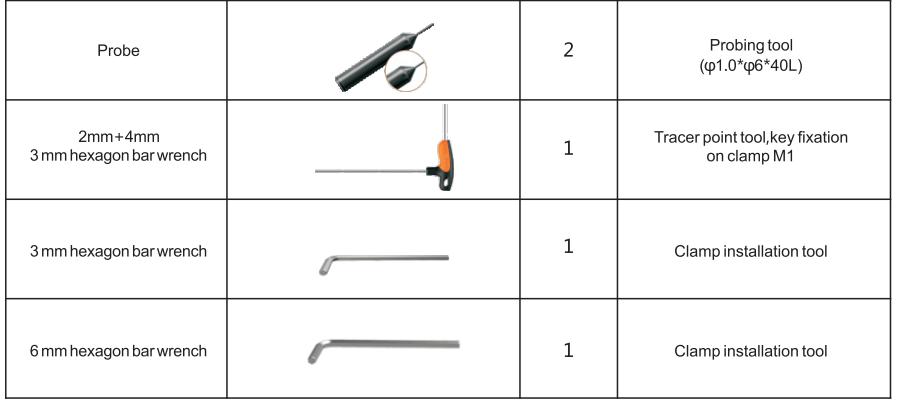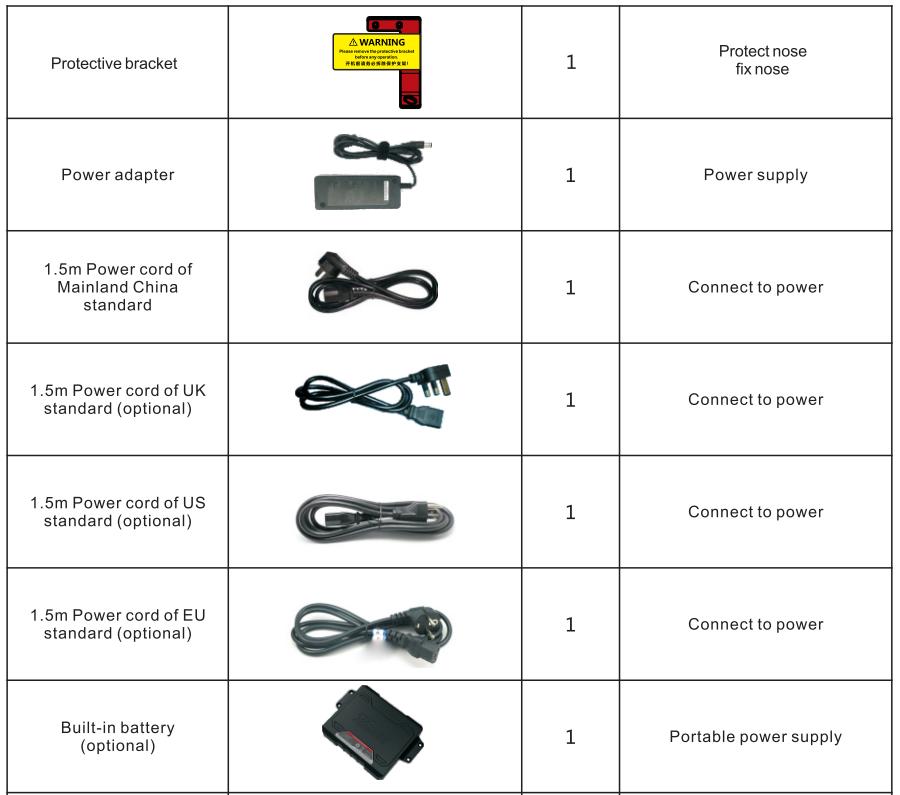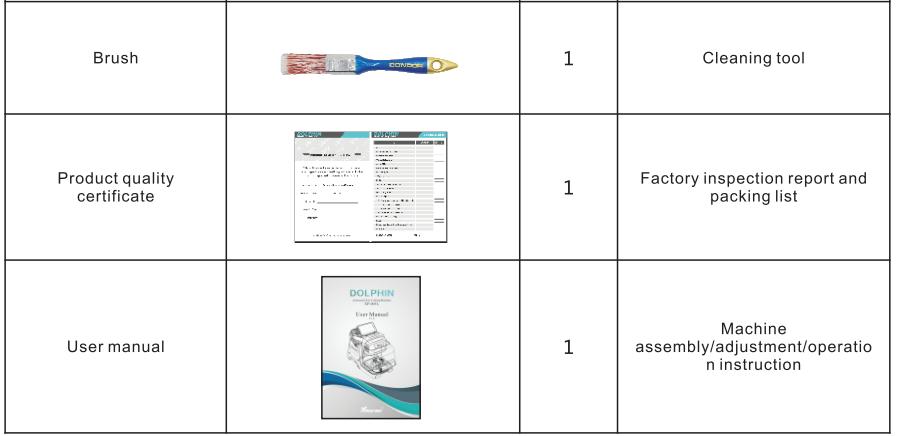 Specifications:
| | |
| --- | --- |
| Input voltage | 24V DC |
| Power | 160W |
| Principal axis rotation speed | 12500rpm |
| Motor Torque | 0.15N.m |
| LCD resolution | 1280*720 |
| Working temperature | -10-50℃ |
| Humidity | 10-90% |
| Machine size | 390mm*220mm*270mm |
| Package size | 495mm*400mm*360mm |
| Net weight | 13kg |
| Gross weight | 18.5kg |
Package Includes:
1pc x Machine
1pc x Clamp M5 and link stopper
1pc x Clamp M3 ( optional )
1pc x Clamp M4 ( optional )
1pc x 1.5mm cutter
1pc x 2.5mm cutter
1pc x Probe
1pc x 2mm+4mm 3mm hexagon bar wrench
1pc x 3mm hexagon bar wrench
1pc x 6mm hexagon bar wrench
1pc x Protective bracket
1pc x Power adapter
1pc x 1.5m Power cord of Mainland China standard
1pc x 1.5 Power cord of UK standard (optional)
1pc x 1.5 Power cord of US standard (optional)
1pc x 1.5 Power cord of EU standard (optional)
1pc x Built-in battery (optional)
1pc x Brush
1pc x Product qualitty certificate
1pc x User manual
---
Marchio Caldo Prodotti:
---
2023 Italia Calda Vendita KT200 ECU Programmatore:

---
Modalità di spedizione e tempi di consegna:
EU(Ceca) Spedizione: 3-5 giorni lavorativi:
Abbiamo immagazzinato articoli di vendita caldi in EU (Ceca) e Amazon EU(Ceca) Warehouse, che è più conveniente per te.
TASSE gratuita,
spedizione più veloce con un prezzo più economico.
Spedizione DHL:
3-4 giorni lavorativi,
per aiutarti nella liquidazione, ti aiuteremo a dichiarare un prezzo più basso sulla liquidazione della fattura. Se l'indirizzo è remoto, il cliente ha bisogno di pagare il trasporto remoto o spediremo tramite posta normale o Yanwen Express.Ma ora
spediamo con DHL ce dogana da pagare
,qundi se non vuoi pagare dogana spese spediamo con YANWEN EXPRESS.
Yanwen Express: 5-10 giorni lavorativi,
di solito nessuna tassa per i paesi europei o l'area remota. La tassa era pre-pagata, quando il pacchetto è stato raggiunto,
non c'è nessuna tassa per i clienti.
---
Qualsiasi domanda, non esitate a contattarci:
Whatsapp:
+86 18580434781
Skype:
AutoOBD.it
Email:
Sales@AutoOBD2.it
Live-Chat:
Chatta con noi Online